Nutrition Education Program
Project New Hope, Inc. Retreats now feature educational nutrition sessions.  These sessions are customized to meet the needs of military service members, veterans and their families.  These sessions are also designed to educate and empower participants with simple and sustainable, take-home strategies.  With the overarching mission of fostering a healthier and happier environment at home, these unique, research-based sessions align with Project New Hope's mission in helping veterans rebuild with honor.
About the Program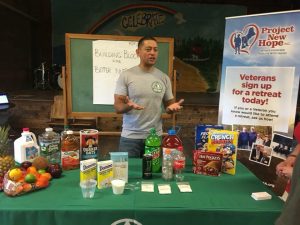 The N.E.W.H.O.P.E. nutrition education program was developed with three key principles; Simple, Measurable and Consistent.
These research-based principles provide a learning framework in which participants can hear, see, understand and immediately apply key concepts.
The N.E.W.H.O.P.E. acronym is comprised of session talking points which include:
Nutrition
Energy
Water
Holistic
Optimize
Policing
Everyday
About our Partners
Primal Platoon, Inc. is a New England-based provider of health & nutrition education.  They specialize in the warrior-breed population (Military, Police, Fire).  Their programs combine evidence-based strategies with adult learning concepts to maximize participant engagement.  Learn more at: